About Us
Globalization and Technology
As a globally-focused, private university based in California, San Diego Global Knowledge University offers easily accessible, networked, and competency-oriented professional education to students worldwide. We are proud to have a Governing Board, Leadership Team, Administrators, and Faculty that are responsible for maintaining the quality, integrity, and financial sustainability of our institution, ensuring that our mission is always being achieved.
Vision
To be the leading university dedicated to the technology-supported delivery of "new generation" global knowledge and the development of competencies essential for a more prosperous and responsible society.
Mission

To offer quality distance educational programs at the undergraduate and graduate levels focused on information technology (IT) and business that help students develop global skills and competencies to achieve their personal success and advance their careers.

Our goals
Support learning and teaching with a global perspective.
Allocate human and financial resources for student support services, educational programs, and library materials.
Provide flexible scheduling to ensure access to education to working adult students.
Seek external funding to help economically disadvantaged students with partial tuition and scholarships.
Incorporate technology to strengthen instruction, student services, and administration for planning and decision-making purposes.
Provide programs that support the admission, retention and education of under-represented groups that have had limited access to education.
Encourage free scholarly inquiry and protect the university as a forum for discussion and critical examination of ideas.
Preserve and transmit the pluralistic, multilingual and multicultural heritage of our global society.
Recruit and retain highly qualified and culturally diverse faculty and staff.
Maintain a safe working environment for staff and faculty.
Sustain long and short-range planning as an integral part of the institution.

History
San Diego Global Knowledge University was constituted as a for-profit, S-corporation, under the laws of the State of California on December, 2007 and was granted approval to operate as a degree granting institution by the Bureau for Private Postsecondary Education (BPPE) in 2008. In 2016, the university was granted initial accreditation by the Accrediting Council for Independent Colleges and Schools (ACICS) and was then granted reaccreditation in 2020. The Founder and President of SDGKU, Dr. Miguel Cardenas, created the institution with the intent of sharing global knowledge and developing global competencies through the use of technology. Throughout the years, SDGKU has certified several thousands of students in professional diploma and granted degrees for its academic programs at the masters and bachelors levels.

Accreditation & Approval
San Diego Global Knowledge University is a California State approved and nationally accredited institution of higher learning. For more information on SDGKU's accreditation and status, please click below.

Government Certifications
San Diego Global Knowledge University participates in several government-related activities that guarantee proceses are in place that assure its business operations are constantly vetted for quality and solvency.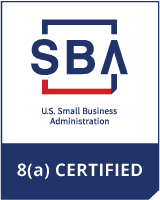 8(a) Business Development Program
San Diego Knowledge University is a U.S. Small Business Administration (SBA) 8(a) Business Development Program  participant. The 8(a) program is a robust nine-year program created to help firms owned and controlled by socially and economically disadvantaged individuals. Businesses that participate in the program receive training and technical assistance designed to strengthen their ability to compete effectively in the American economy. SDGKU is a hispanic-owned small business.
United States General Services Administration
San Diego Knowledge University is a U.S. General Services Administration (GSA) Multiple Award Schedule (MAS) awardee under GSA Contract 47QTCA18D00BD. This government contract vehicle is available for any municipal, state, or federal agency interested in contracting SDGKU programs at a special rate only offered to the United States Government. As an IT Schedule-70 provider, SDGKU offers its Full Stack Development Immersive and MS in Communication and Technology programs as part of its GSA MAS contract.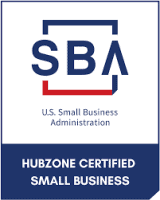 HUBZone Program
San Diego Knowledge University is a U.S. Small Business Administration (SBA) Historically Underutilized Business Zone (HUBZone) Program  participant. The government limits competition for certain contracts to businesses physically located in historically underutilized business zones. It also gives preferential consideration to those businesses in full and open competition. By joining the HUBZone program, SDGKU is eligible to compete for the program's set-aside contracts.

CalJobs – Education Training Provider
San Diego Knowledge University is approved by the State of California's CalJobs program and recognized as an official member of the Education Training Providers List (ETPL) of the San Diego Workforce Partnership. The purpose of the (ETPL) is to provide customer-focused training for eligible adults and dislocated workers. CalJOBS is California's online resource to help job seekers and employers navigate the state's workforce services. As an ETPL provider, SDGKU students are eligible to receive funding through Workforce Innovation and Opportunity Act (WIOA) funds from the United States Department of Labor.

United States Department of Education – Title IV Program Participant
San Diego Knowledge University is approved by the United States Department of Education as a Title IV program participant. This allows SDGKU students that qualify to access federal financial aid funds to pay for their academic program tuition, fees, and associated living expenses. SDGKU has participated in Title IV since its initial approval in 2019. Only accredited universities are able to access Title IV funding for their students.

United States Veterans Education Benefits
San Diego Knowledge University is approved by the United States Department of Veterans Affairs (VA) to offer Veterans Education Benefits to those students that qualify. This allows United States retired military personnel to pay for their academic program tuition, fees, and associated living expenses using their veterans education credits. SDGKU has offered veterans education benefits since its initial approval by the VA  in 2018.

Non-Government Organizations
San Diego Global Knowledge University participates in NGO-related activities that align with its mission and that support society and communities on a global scale.

United Nations Global Compact Member Organization
At San Diego Global Knowledge University we aim to mobilize a global movement of sustainable companies and stakeholders to create the world we want. To make this happen, we believe in supporting the UN Global Compact by becoming a member institution and abiding to its stated vision for businesses and organizations. In particular, to (1) do business responsibly by aligning our strategies and operations with Ten Principles on human rights, labor, environment and anti-corruption, and (2) by taking strategic actions to advance broader societal goals, such as the UN Sustainable Development Goals, with an emphasis on collaboration and innovation.