Full Stack Development Immersive (FSDI)
The Full Stack Development Immersive certificate program is designed to prepare students for entry-level full stack web developer careers. This 30-week immersion is delivered in 100% online or hybrid modalities, allowing students to communicate easily with their instructor and fellow classmates from the comfort of their own home, as well as in-person.
The program's in-depth curriculum provides training in every layer of a web application stack, from user interface to front-end, middle-tier, and back-end components, using popular coding languages such as HTML, CSS, JavaScript, jQuery, Node.js, React, Asp.net, and Python. Additionally, peripheral technologies and methodologies, including GitHub, Agile, and Scrum, are covered. Students in the program will develop skills in building websites and applications, starting with simple one-page structures and progressing to complex applications with integrations to external data sources and mobile capability. They will also develop their projects in a setting that reflects the real-world environment of technology startups or departments at large technology companies. As part of the program, students will create a fully functioning online project accessible through mobile devices, as well as a professional portfolio documenting their work.
This program provides an excellent opportunity for those who want to learn how to code and pursue a rewarding career as a full stack developer. Classes start every 5 weeks.
Are You Career Training Ready? Find Out!


Take the SDGKU "Career Training Readiness Quiz"
This fun, online quiz takes 3 minutes to complete and you'll get a personalized report.
Identify your strengths and social style plus the training positions you're best suited for.
Approved for Veterans
San Diego Global Knowledge University proudly supports our heroes in pursuing their personal and professional goals. The US Department of Veterans Affairs has approved the Full Stack Development Immersive program so that veterans can use their Chapter 33, Post-9/11 G.I. Bill credits and several other educational benefits to pay for their tuition and fees, including Chapters 30-32, 35, 1606 and Veterans Rapid Retraining Assistance Program (VRRAP).
Federal Financial Aid
Ask around. Do your research. It will be difficult to find another full stack training program that offers federal financial aid (Title IV) funds to cover learning and living expenses. If you qualify, you may be entitled to government grants (free money) and loans, available at the best rates possible. Other coding "bootcamps" may offer private financing options, but never comparable in terms of accessibility and cost to those offered by the federal government.
Employability
Graduates of the Full Stack Development Immersive program acquire the basic skills necessary to strongly compete for an entry-level position as full stack developers in companies from varying industries. The placement rate for our graduates is above 80%. Most graduates work at technology firms, as freelancers with multiple clients, or as small tech business owners. The program offers job training and counseling as part of its basic services to help students get the edge over other potential job candidates.
Academic Support
The Full Stack Development Immersive program is for serious students who understand that learning how to code is not easy and not only requires their full dedication, but also a helping hand by teachers who know what they are talking about. Most instructors are experienced doctoral-level professionals who are devoted to their students. All instructors have a deep understanding of the learning process. The program provides the highest quality support to students so that they can maximize their learning capacity and career preparation as full stack developers.
Earn Academic College Credits
Graduates of the program earn 24-semester equivalent academic units or college credits and are provided an official transcript, in addition to the program certificate of completion.
What is a full stack developer?
Full stack developers are required to know specific programming languages and software development methodologies that together comprise the "full stack" of knowledge and skills. This begins with the most widely used programming languages and technology for front end or user focused website and application development. Back end development requires a firm understanding of storing and manipulating data, which refers to the part of a computer system or application that is not directly accessed by the user. Finally, full stack developers must understand how to integrate front and back end systems by understanding the most commonly used software development and testing methodologies.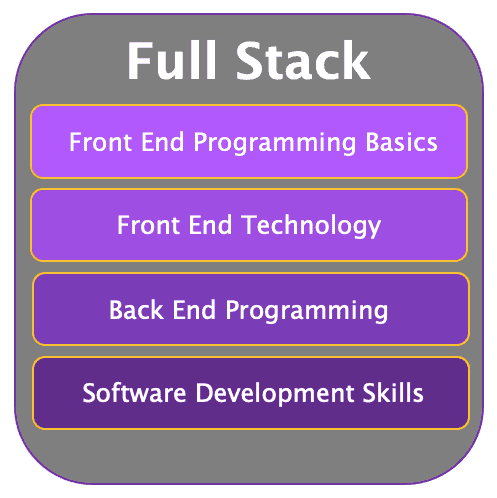 Lead Faculty: Samantha Jimenez, Ph.D.
Dr. Samantha Jimenez serves as lead faculty for the FSDI program.  She has over 10 years experience teaching computer software engineering, programming, and computer science and has participated in leadership roles for various software development projects and professional conferences in the software industry and academia. When she's not working as a full stack instructor, she is an avid volleyball player and participates in competitive tournaments throughout the year.

Accredited Program
SDGKU and the Full Stack Development Immersive program are accredited by the Distance Education Accrediting Commission (DEAC). Accreditation is the review of the quality of education offered by an institution or program. In the United States, accreditation is the primary way that students, families, the public, and government officials know that an institution provides a quality education.
FSDI 101: Introductory HTML & CSS
This course is designed to cover the fundamentals of the HTML programming language and CSS creation of rules that specify how the content of an element should appear. Students will develop skills like creating the basic structure of a website, text, lists and images. They will create their first HTML5 website with each of the elements presented in the course. Students will gain a basic understanding of the functions and inner-workings of CSS, how to write CSS rules, and how to apply CSS rules to HTML pages.
(1 credit hour)
FSDI 102: Intermediate HTML & CSS
This course presents an intermediate-level HTML programming language and CSS creation of rules that specify how the content of an element should appear. Students will develop skills like creating the more advanced structures of a website, such as images, tables as well as audio and video integration. They will create an HTML5 website with each of the elements presented in this and the previous course. Students will gain a thorough understanding of the functions and inner-workings of CSS, how to write CSS rules, and how to apply CSS rules to HTML pages.
(1 credit hour)
FSDI 103: Programming Fundamentals
This course teaches students how to program in Scratch, an easy to use visual programming language. In particular, the course will introduce students to the fundamental principles of computing and will help them think like software engineers. Since programming is fundamentally about figuring out how to solve a series of problems and writing relating algorithms, a clear set of steps to solve any problem will be presented in this course. Students will learn how to develop an algorithm, progress to reading code, then understand how programming concepts relate to algorithms.
(1 credit hour)
FSDI 104: JavaScript Fundamentals
This course presents the key concepts in computer programming using JavaScript. Students will learn the basic principles of how computers create models of the world by using data and how JavaScript is utilized to change the contents of an HTML page. Students will gain an understanding of the basics of JavaScript and how the Document Object Model (DOM) allows access to change a document's contents while it is loaded into the browser. Students will also explore how events are used to trigger code.
(1 credit hour)
FSDI 105: jQuery Fundamentals
This course presents the principles of jQuery and how it can make the process of writing scripts faster and easier. Students will learn how to take a series of common tasks that require many lines of JavaScript code to accomplish and wrap them into methods that can be called with a single line of code. In addition, students will be introduced to Ajax and Application Programming Interfaces (APIs), including new APIs that are part of HTML5 and those of sites like Google Maps.
(1 credit hour)
FSDI 106: JavaScript and jQuery Solutions
This course is designed for students to utilize fundamental JavaScript and jQuery knowledge to create a project that can demonstrate their basic knowledge of each. Students will continue to practice writing code and learning more advanced topics of JavaScript and jQuery, given their importance for full stack developers because jQuery is the most widely deployed JavaScript library, with 3 to 4 times more usage than any other JavaScript library on the web.
(1 credit hour)
FSDI 107: Introductory React
This course explores JavaScript based front-end application development using React.js. Students will use JavaScript ES6 to develop a React application. They will be introduced to various aspects of specific React components, or smaller pieces of code, which allow for more complex user interface (UI) designs and the creation of reusable UI components. In addition, students will learn about React router and its role in developing single-page applications.
(1 credit hour)
FSDI 108: Introductory Python
This course presents the basic principles of Python, a general-purpose coding language that can be used for other types of programming and software development besides web development, in contrast to HTML, CSS and JavaScript. This includes back-end development, data science, and writing scripts among other things. Students will build a Python application utilizing lists, if statements, if else statements, dictionaries, classes and functions. A particular focus will be given to testing and debugging a Python application for quality control purposes.
(1 credit hour)
FSDI 109: Intermediate React
This course focuses on designing controlled forms. Students will be introduced to Flux architecture as a design pattern and Redux as a predictable state container for JavaScript apps or an application data-flow architecture. The course explores various aspects of Redux and its use to develop React-Redux powered applications. Students will then learn how to perform asynchronous calls to communicate with a REST API.
(1 credit hour)
FSDI 110: Introductory Web API with ASP.net/Flask
This course provides an overview of Web API implementation with ASP.net and Python Flask, open-source web application frameworks designed for web development to produce dynamic web pages. This is a unique course focused on creating a backend API connected to NoSQL database (MongoDB) as way to persist JSON object. This backend will be used by an online store build with React as the front-end framework. Students will be focused on creating the back-end business and data logic, as well as exposing the functionality as a RESTful API, the latest standard for API development.
(1 credit hour)
FSDI 111: Intermediate Python and Flask
This course is designed to teach students how to leverage the Flask micro web framework using Python programming language to build and run software applications of various types. Throughout this course students will learn how to create micro-services, write and employ templates to create graphical frontends for their web applications, connect applications to databases to allow users to create, read, update and delete persistent records, leverage web forms to obtain user input and more. The course presents some classical examples for analysis and development by the student, such as building a restful backend that interacts with a database to store user data, a blog type website and a basic e-commerce or online store type application.
(1 credit hour)
FSDI 112: Introductory Django
This course takes an expanded look at Python as a programming language building on the student's introductory Python knowledge, particularly focusing on Django, a high-level Python web framework that encourages rapid development and clean, pragmatic design. Students will be exposed to the peer development process of a web-based application, including its testing and deployment using Django.
(1 credit hour)
FSDI 113: Intermediate Django
This course is designed to introduce students to more complex problems surrounding the development and deployment of a Django application. The user will gain intimate knowledge on how to build a more robust, secure and scalable application using the Django framework. Students will experience why Django is the most popular Python framework for web development and a key tool for full stack developers seeking to use a framework that includes all the necessary features by default instead of offering them as separate libraries.
(1 credit hour)
FSDI 114: Algorithms and Data Structures
This course covers the essential information that every serious programmer needs to know about algorithms and data structures, with emphasis on applications and scientific performance analysis of Python implementations. It covers elementary data structures, sorting, and searching algorithms. Using a combination of data structures and algorithms, students will learn how to apply them to drastically improve the performance of a program by designing efficient data structures which are key to designing efficient algorithms.
(1 credit hour)
FSDI 115: User Experience and Responsive Design
This course is focused on helping students build a complete design project from start to finish while applying the principals and guidelines of UX design, such as user testing and wire frames. Students will learn how responsive design is used to build and end product that will provide a good user experience across as many devices as possible. Their project will have Responsive Web Design (RWD) functionality that reflects dynamic changes to the appearance of a website depending on the screen size and orientation of the device being used to view it, as well as page elements that reshuffle as the viewpoint grows or shifts.
(1 credit hour)
FSDI 116: Software Development Methodology Fundamentals
This course presents several aspects of the software development life cycle (SDLC), an iterative and multi-step process that provides a systemic approach for building and delivering software applications. Students will be exposed to methodologies like Agile, Scrum and test-driven development. Students will learn how to use certain methodologies, which project managers employ for the design, planning, implementation and achievement of their overall project objectives. Students will be required to engage in a collaborative effort of forming self-organizing and cross-functional teams, as well as defining the end user.
(1 credit hour)
FSDI 117: Agile Architecture and Software Project Management
This course presents some of the fundamentals of software architecture and design patterns within an Agile environment. Students will write code based on various design patterns and will select the most appropriate architecture that is adaptable and applicable to their project. Students will review various tasks associated with Software Project Management, such as cost and effort estimation, an essential consideration for all freelancers and junior full stack developers.
(2 credit hours)
FSDI 118: Capstone I: User Experience
This course is designed to integrate several concepts and tools discussed in previous courses. Students will begin working on the basic programing tasks for their final Capstone project. In particular, focusing on designing, building and testing user experience (UX) aspects of the project. A special focus will be made on branding, usability and function as key drivers that enhance the experience that people have while interacting with a product while making sure they find value in what is being provided.
(2 credit hours)
FSDI 119: Capstone II: Agile Methodology and Architecture
This course will take students through the process defining a development approach and general architecture for the final Capstone project. Students will continue to develop their project using an Agile methodology. Students will implement the principles of adaptive planning leading to flexible responses to change while also employing architectural styles and design patterns that allow the incorporation of any change in the development process.
(2 credit hours)
FSDI 120: Capstone III: Project Management
This course concludes the Capstone series and Full Stack Development Immersive program. Students are required to finalize their Capstone projects, by implementing various programming principles presented in the program and by demonstrating their own ability to manage the development process and financial feasibility of their respective projects. Students will be launching their projects as live websites or applications that can be used to demonstrate the competencies they acquired in the program at a minimum, and if possible, as fully functioning tools that provide value to society. Students are required to present their final projects to their peers and submit a written report to the instructor, simulating a real-life project rollout scenario to future employers.
(2 credit hours)